China Development Forum 2017: Tsinghua SEM Dean QIAN Yingyi Held a Dialogue with Apple CEO Tim Cook
On 18 March, 2017, Professor QIAN Yingyi, Dean of Tsinghua University School of Economics and Management (Tsinghua SEM) held a dialogue with Tim Cook, CEO of Apple Inc., on the topic of "Innovation, Entrepreneurship and CSR in the New Era of Globalization" at the China Development Forum 2017. This was the second time that the two had held public dialogues since their previous meeting at Tsinghua SEM in 2014.
During the dialogue, Dean QIAN and Cook held an in-depth discussion on increasing the practical value of Augmented Reality (AR) technology and Artificial Intelligence (AI), as well as on the issues of development of the digital economy, corporate social responsibility and new challenges of globalization.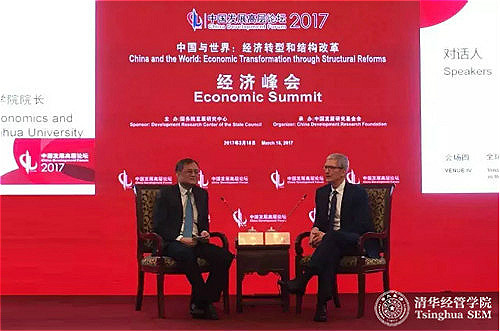 China Development Forum 2017: Tsinghua SEM Dean QIAN Yingyi (Left) Dialogue with Apple CEO Tim Cook
Apple seeks to explore applications of AR in education as next leading technology
At the start of the dialogue, Dean QIAN mentioned that it was the 10th anniversary of the birth of iPhone and with Apple's stock price constantly reaching new heights, he probed Cook on his source of confidence for the company's future. Cook stated that the Apple company is not particularly focused on its stock price, and that they are more interested about their main mission of producing the best product in the world to enrich people's lives. The secret of Apple company's success is its talent and culture, and his confidence stems from his belief that the company will continuously innovate in these two areas.
Afterwards, Cook replied several of Dean QIAN's questions regarding AR. Cook believed that AR is not a product but rather a core technology and potentially the next leading technological frontier. The applications of AR lie not only in gaming, but also in improving how people communicate. As a form of cross-device technology, AR will undoubtedly be a part of our lives in the future. Cook indicated that the application of AR technology in the educational realm is what Apple aims to achieve.
When asked for his views towards AI technology, Cook said that AI is seeing widespread application into human life, including in areas such as healthcare, automobiles, trains and other forms of transportation safety, which is great news. Cook believed that there is no need to worry whether AI would displace employees as technological disruption will bring new job opportunities at the same time.
China is leading in the mobile payment game
On the issue of developing a digital economy, Cook raised Apple as an example to show that mobile payment is highly safe and private, showcasing how internet services are making life more convenient. Dean QIAN also raised an example of old grannies in the Tsinghua Campus using mobile payment to sell watermelons, showing how prevalent the technology has become in China. Cook compared this to the situation in the West and commended China on its lead in mobile payment.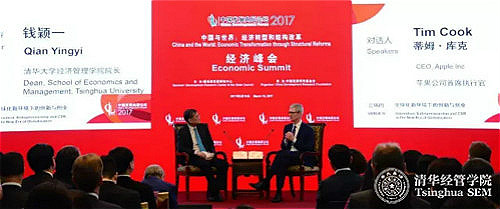 China Development Forum 2017: Tsinghua SEM Dean QIAN Yingyi (Left) Dialogue with Apple CEO Tim Cook
Apple is practicing corporate social responsibility (CSR) to ensure 100% clean energy use in China
Dean QIAN then set off from a CSR point of view to question Cook how Apple plans to help China achieve its green transformation and development. Cook introduced Apple's own mission and vision - to make the world a better place and hence the firm promises to use 100% clean energy in China and at the same time help partner firms achieve their green goals. Also, Apple insists on practicing end-to-end encryption in its best efforts to protect user safety and ensure proper implementation of digital devices in education. Cook also mentioned that Research & Development Centers would be established in Shanghai and Suzhou, outside of Beijing and Shenzhen to promote cooperation with Chinese talent and help further innovation in China.
Globalization brings benefits to the world
On the topic of globalization, Dean QIAN mentioned that although Apple is an American firm, it is also a global company as most iPhones are still assembled in China, and raises the inquiry to Cook of Apple's role in the new context of globalization. Cook felt that globalization allowed millions around the world to escape poverty, however many countries have failed to resolve problems brought about by it, and that both the government and enterprises have equal responsibilities to solve the current situation. Globalization on a whole made everyone more well-off but gave rise in distributional inequalities during its development process. According to Cook, education in the midst of globalization can help promote equality and the world needs to increase its efforts in helping weaker groups obtain better opportunities for education.
At the end of the dialogue, Cook answered questions from the audience regarding issues on whether technology companies were overvalued and his views on Apple's competitors in China. (by WU Tong)